Friday afternoon the weather happened to be on the verge of beautiful. The sun was shining but the wind was so strong that it felt like it could carry me away.
Since we'd had so much rain that week I decided to go rock hunting. Every time I think I've picked our yard clean, it will rain and expose more geodes, crinoids, and other fossils. This time I decided to dig around the pond, which is a place I have always avoided in the past. The pond is very large and deep, and the ground around it is soft and crumbly. When you can't swim, you tend to avoid any bodies of water larger than a bath. But I learned how to swim (or at least flail around and keep myself afloat) last summer, so the pond isn't much of a danger to me anymore.
The pond is set deeply into uneven ground, so it has banks that actually stretch up to 10 feet overhead around one side. That was the side I decided to poke around in. I climbed down the slope, clinging to exposed roots and slabs of stone until I was down by the water. The red bank rose overhead, streaked with veins of heavy gray clay. Already I could see fist-sized geodes stuck in the dirt.
I spent a good 20 minutes prying stones out and dropping them in a pile by my feet. By that point the wind had whipped my hair out of the ponytail I'd had it in, and my hands were far too muddy to do anything about it. My rain boots probably weighed ten pounds each from all the mud and clay that clung to them. But I had quite a haul..geodes and a slab of white stone that contained several shell fossils. I was getting ready to move on when I spotted a massive geode buried halfway up the bank. It was nearly the size of a watermelon. I couldn't pass that up.
Dirty, windblown, and weighed down with rocks and mud, I made my way to the fence and started dumping geodes over. A bucket would have been nice, but we have two horses and you can't enter that field with a bucket unless it contains feed. They will grab the bucket away from you if you dare go in there with an empty one.
A few days later, I went ahead and cracked open the big geode. This is what it contained: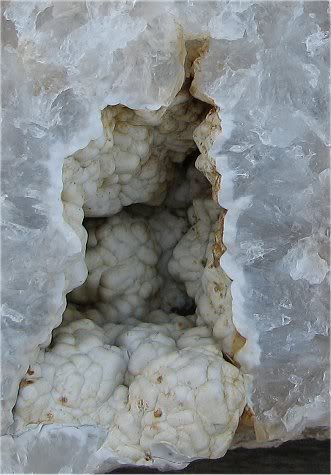 It's very similar to the last large one I found, which my fiance had cut open for me with a diamond bladed saw.
This is the stone with fossilized shells in it. It's about the size of a small paving stone:
And the handful of Crinoids I also picked up: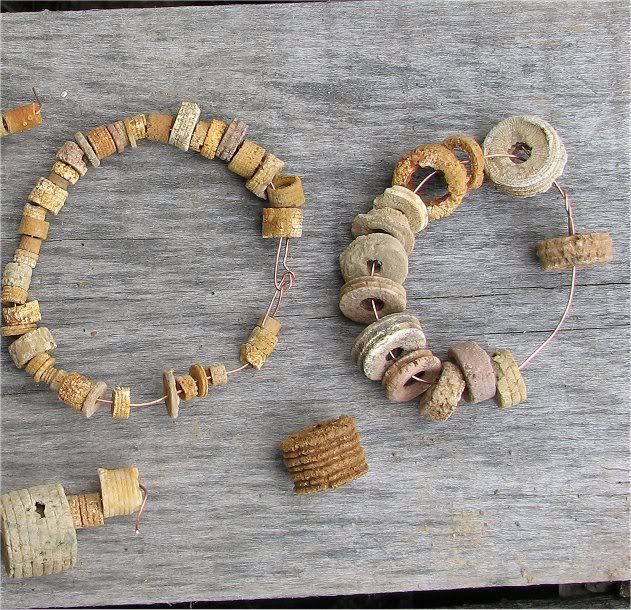 All in all, a good day for rocks. I haven't cracked open the other geodes I found, yet. Some of them found other homes..I've been mailing off boxes of them to friends in other states. I think the postman must hate me by now.